Herbally Pure Liquid MultiVitamins with Minerals And Antioxidants are an Electrolyte Enhanced Vegan Product with no Fructose!
There are NO animal products used in the manufacture of our product
 
*We Guarantee Potency and are True to our Label*
For Your Protection and Peace of Mind.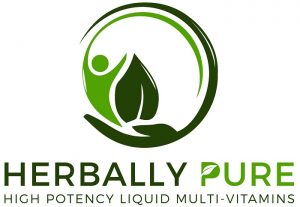 We are committed to producing the finest High Potency Nutritional Liquid Vitamin & Mineral Supplements.  Our commitment shows in every step of our manufacturing process: the best premium raw materials available, a highly devoted staff, quality control purity testing and modern sterilized pharmaceutical grade production equipment.  You are guaranteed the highest of quality in manufacturing and testing making the final result products with not only the highest purity but also the best ratio of critical ingredients to assure the results and nutritional success you are looking for.
Many people are praising liquid vitamins.  Our brand in in particular enjoys a lot of popularity.  Herbally Pure liquid vitamins are thought of more and more as a miracle product.  While such claims are exaggerated, the truth is somewhere in the middle; Herbally Pure is simply a very good supplement to complement our diets. The fact is most vitamins and minerals we need should come from proper nutrition, eating the right food and supplements are aimed to do exactly what the name implies: supplement our diet with what we lack.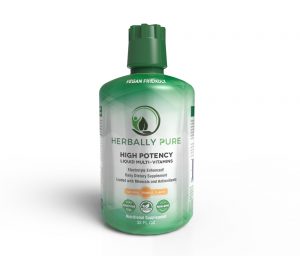 Up until recently we took vitamin and mineral supplements in the form of pills and most still do. The problem is that pills sometimes tend to upset our stomach, especially when taken long term. With active lifestyles, rarely will we see a circumstance in which we don't require extra nutrition in our diets. To avoid digestive issues and to get the best absorption of vitamins and minerals from supplements, the best solution is liquid vitamins. Herbally Pure liquid vitamins simply do not upset our stomach like pills. This is due to the rate at which the vitamins are absorbed and digested into the bloodstream. Herbally Pure liquid minerals, vitamins and antioxidants will be absorbed within minutes of ingestion.  Pills and capsules, even rapid dissolving tablets and gel caps take time to break down.  Most capsules take 4 to 6 hours for total absorption and many end up being absorbed in the upper intestines.
The name "Herbally Pure" might require further discussion. While liquid vitamins are generally the same, we have added this to our label. There are also terms like "high potency" which is very similar to our Herbally Pure concept. Herbally Pure liquid vitamins refers to our liquid vitamins that contain ingredients taken from pure elements or more simply said elements that will not upset your stomach, are easily digested and are not in any way dangerous to your health. Some of the vitamins and/or minerals included are actually extracted from various herbs.
Herbally pure liquid vitamins are recommended for everyone, not just for people that have problems with digesting vitamins in pill form. The only  circumstance that might be problematic is if you've undergone bariatric surgery.  In the case of bariatric surgery patients, liquid vitamins that have even higher concentrations of minerals and vitamins may be indicated.   Or if a doctor has prescribed very high dosages of a specific vitamin or mineral due to a deficiency or absorption problems. For instance, some individuals might have a problem with vitamin B12 absorption. In this case you would need to purchase a liquid vitamin supplement and another supplement that is higher in B12, taking care to not overdose other vitamins. Herbally pure liquid vitamins will give you everything you need in a non-prescription over the counter multivitamin concentrate.
We invite you to read and understand the ingredients, quantities and concentration list just to be sure and stay informed.  We encourage you to make the best possible choice.