Liquid Vitamins Supplements For
Bariatric Patients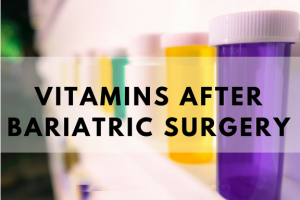 Bariatrics is a branch of medicine that deals with treatment, prevention and causes of obesity. The term was first introduced in 1965 and is derived from the Greek "baro" (weight) with the suffix "-iatrics" (a branch of medicine). Bariatrics is closely linked with pharmacotherapy of obesity and surgery that is done in such cases. Sometimes it is the only good solution because obesity is currently a huge problem around the world that tends to affect the human body in a negative way: heart disease, cancer, asthma, diabetes, chronic musculoskeletal problems, obstructive sleep apnea and the list can go on.
Bariatric surgery (also known as weight loss surgery) is a term that refers to different surgical procedures that are performed in order to treat obesity through modifications of the gastrointestinal tract. It includes lap band surgery, gastric bypass surgery, roux-en-y surgery and a lot more. This reduces nutrient absorption and/or nutrient intake. Bariatric surgery does not refer to different surgical procedures aimed to remove body fat (like liposuction).
Liquid minerals and liquid vitamins are the best solution for patients that went through bariatric surgery or any individual that has problems with pill form supplements. In most cases doctors will recommend liquid vitamins for all patients that underwent gastric bypass procedures. Regular pills usually take around 2 to 6 hours to begin having an effect on our bodies because they have to be broken down by stomach acid first. This is where liquid vitamins aid people as they avoid the digestion process and start being effectives within minutes of taking them in. Bariatric patients have to consume more vitamins than regular people and this is why liquid vitamins are the best solution in their case.
With the evolution of technology we clearly see every year it is clear to understand why liquid vitamins have become popular and useful for people that went through Bariatric surgery. There are some formulas especially designed for such cases through a composition that delivers more than the RDA of vitamins required for our bodies. Combine this with a huge variety of possible tastes and we have products that can really aid Bariatric patients by providing the vitamins they need and making it pleasant at the same time.
You can easily find liquid vitamin products although only some are really recommended for bariatric surgery patients. Be sure to read the label in order to find out the exact quantities of each vitamin you are getting and make sure that you do not take in too much or less than what your body needs. You will not be able to have a precise amount laid out for you but going for the recommended RDAs is a great place to start. Be sure to consult your doctor so that you know exactly what to look for and then do a little research so that you will get the best price on the product that best suits your personal needs. You can even opt for special liquid vitamin shops online because there are a lot of deals and discounts you can find.